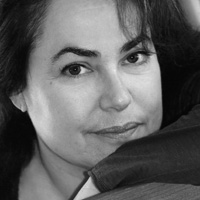 Amy Bloom
In conversation with Pam Houston
Wednesday, February 23, 2011
Crest Theatre | 7:30 p.m.
The bestselling author of two novels and three collections of short stories, Amy Bloom has been called a writer with both incredible "spunk" and "flair." For her novels, Love Invents Us and Away, and for her short story collections, Come to Me, A Blind Man Can See How Much I Love You, and Normal, Bloom has won multiple accolades and awards: the O. Henry Award for short story writing and nominations for the National Book Award and the National Book Critics Circle Award. In addition to writing prize-winning works of fiction, Bloom has written for The New Yorker, The New York Times magazine, and The Atlantic Monthly and earned a National Magazine Award. Her latest collection of short stories, Where the God of Love Hangs Out, explores love in its many forms and the effects brought about by both love and loss. Bloom has been a psychotherapist for the past 20 years, taught at Yale University for a decade, and is now Wesleyan University's Writer-in-Residence.
"Amy Bloom gets more meaning into individual sentences than most authors manage in whole books."
– The New Yorker