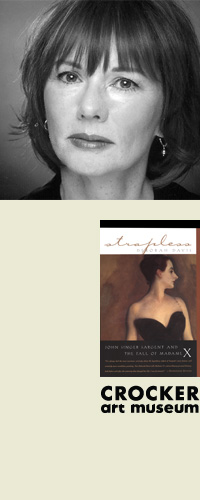 DEBORAH DAVIS
Presented by Crocker Art Museum
One Book/Many Perspectives
Saturday, September 24, 2011
Crocker Art Museum | 11 a.m.
Strapless author Deborah Davis will take the stage to talk about the mysterious woman who posed for one of the most infamous portraits in American art history—Madame X by John Singer Sargent. Filled with scandal and beauty, this is a tantalizing tale not to be missed.
Meet the Author is part of the program series "One Book/Many Perspectives." Join the community in reading Strapless: John Singer Sargent and the Fall of Madame X. Pick up a copy of the book in the Museum Store, start reading, and join the discussion.
For more information about One Book programs or to purchase tickets, please visit the Crocker Art Museum
Website or call (916) 808-1182.
With Support by California Lectures