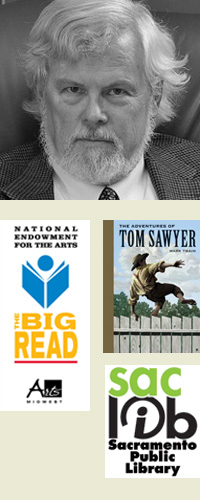 ROBERT HIRST
Presented by the Sacramento Public Library
& The Bee Book Club
Thursday, September 29, 2011
Central Library
Tsakopoulos Library Galleria | 6:00 p.m.

Free and open to the public
Robert Hirst, general editor of the Mark Twain Project at the University of California, Berkeley, will discuss the recent publication of the Autobiography of Mark Twain, Volume One. Special guest, McAvoy Layne as Mark Twain.
The Big Read, an initiative of the National Endowment for the Arts in cooperation with Arts Midwest, is designed to restore reading to the center of American culture. Sacramento Public Library hosts a Big Read project featuring The Adventures of Tom Sawyer by Mark Twain.
For information about other programs associated with The Big Read, please visit the Sacramento Public Library.
The Big Read is a program of the National Endowment for the Arts in partnership with Arts Midwest.
With Support by California Lectures