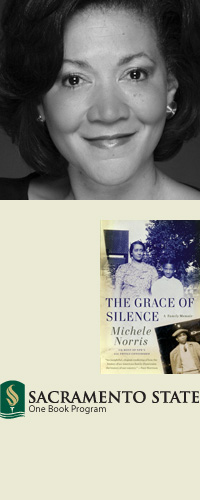 MICHELE NORRIS
Presented by Sacramento State
One Book Program
Thursday, October 20, 2011
University Union Ballroom | 7:00 p.m.
Free and open to the public
As the starred review in Booklist states: "Lauded journalist Michele Norris, co-host for All Things Considered on NPR, intended to write a book analyzing the changing conversation about race in the Obama era. But once she realized that even within her own family, discussions about race were 'not completely honest,' she changed course. The result is an investigative family memoir of rare candor and artistry that dramatically reveals essential yet hidden aspects of African American life." Join the community in reading and discussing this important memoir, and meet the author during her lecture and book signing for The Grace of Silence.
Michele Norris is co-winner of the Alfred I. duPont–Columbia University Award for The York Project: Race and the '08 Vote and was chosen in 2009 as Journalist of the Year by the National Association of Black Journalists. She has written for The Washington Post, the Chicago Tribune, and the Los Angeles Times. As a correspondent for ABC News from 1993 to 2002, she earned Emmy and Peabody awards for her contribution to the network's 9/11 reporting.
For information about other programs and events associated with the One Book, please visit Sacramento State One Book.
With Support by California Lectures